The Festival des 3 Continents reveals today its 2022 poster, designed by the graphic studio LESBEAUXJOURS.
«A group of children and a pensive old man in the landscape between land and sea of a modest village in Kerala, India, in the late 1970s. Imbued with a meditative sweetness, this image taken from the restored version of Govindan Aravindan's magnificent Thampu will be the totem of our 44th edition. Cinema as a link or meeting point between generations, film as a possible point of convergence and sharing of views or, as Jean-Luc Godard said: "Cinema is not sheltered from time, it is the shelter of time". And, during the time of a film, wherever it comes from, it becomes ours.» Jérôme Baron, artistic director.
The festival will be held in Nantes and in theatres in the Loire Atlantique region (Ancenis, Bouguenais, Clisson, Héric, La Turballe, Rezé, Saint-Herblain, Sainte Marie-sur-Mer and Saint-Nazaire) from 18 to 27 November 2022.
The festival will present a wide range of films from Africa, Latin America and Asia through a selection of fiction and documentaries.
The main lines of the programme will be made public soon and the whole program will be revealed at a press conference on November 3rd.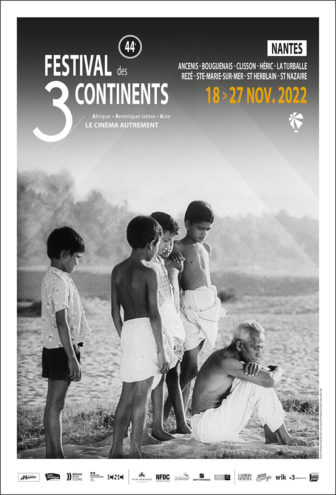 © Thampu (1978) by Govindan Aravindan / by courtesy of Film Heritage Foundation (India) © lbj